Posted by Veronique on Apr 16, 2023
"The Last Thing He Told Me"'s Angourie Rice Is the Queen of Teenage Angst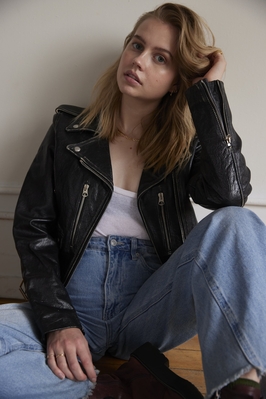 Angourie Rice is an expert at playing a teenager, even though she turned 22 this past January. Last year, the actor starred as the teenage version of Rebel Wilson in Netflix's "Senior Year," as well as a hilariously driven student in the irreverent comedy "Honour Society." Rice also appeared in the MCU's Spider-Man movies as Betty Brant, and in 2021's "Mare of Easttown" she played Siobhan, Mare's stubborn daughter. Now, in Apple TV+ series "The Last Thing He Told Me," based on Laura Dave's bestselling novel of the same name, Rice stars as reeling high schooler Bailey opposite of Jennifer Garner, who plays her stepmom, Hannah, whom she can't connect with, and Nikolaj Coster-Waldau, who plays her missing dad, Owen.
"What I really liked about Bailey is that she had such a clear idea of what she loved and what she wanted to do," Rice tells POPSUGAR. "I really love that Bailey has this really strong idea of who she is and what she wants, but it's so shattered when her dad disappears because her idea of who she is is intrinsically, inextricably linked with her dad."
The main relationship in "The Last Thing He Told Me" is between Bailey and Hannah; Bailey doesn't accept Hannah as her stepmom, but after Owen goes missing they have no choice but to come together. "Olivia Newman, who directed three of the episodes and is an executive producer as well, pitched it to me as a mother-daughter love story, which I really loved," Rice says of her audition process. "It's about two women who don't know how to be in each other's lives. And throughout the course of the story, they learn how to do that."
Garner, Rice says, was "an incredible person to work with." Before shooting even started, they sat down with Dave and Josh Singer (who wrote the series together) to talk through all the scripts, which she says was "so rare" and "such a treat."
Something Rice has in common with her "The Last Thing He Told Me" character is a love of musical theatre. The day Owen goes missing, Hannah has to pick Bailey up from play rehearsal. Plus, the latter's bedroom at home is filled with posters for her favourite musicals. In real life, Rice is currently in production for the movie adaptation of the "Mean Girls" musical. In her Apple TV+ series, the actor uses her musical theatre chops as her character sings "Anyone Can Whistle" at school. But she also performed another song that was cut from the show: "She Used to Be Mine" from "Waitress." Rice explains, "Both [songs] really connect with Bailey as a character, and it's so beautiful for Bailey as this moody teenager, she is able to say and express how she's feeling through musical theatre rather than through words."
"Musical theatre and art, it gives you something to hold onto," she continues. "It gives you stories when you might not have stories." Bailey, she says, doesn't have a lot of stories in her life. "She has her entire life with her dad, but how much does she know about her mom? How much does she know about her life before her mom died? Probably not much at all," Rice notes. "I liked the idea that Bailey loves musical theatre so much because it allows her to enact stories that she might not have in her real life."
One of Rice's favourite days of filming "The Last Thing He Told Me" was when she and the cast filmed a flashback scene where Bailey, Hannah, and Owen all get dinner together. "That was really fun because Jen and I both love Nikolaj and we missed him so much," she explains. After Coster-Waldau's character goes missing in the first episode, he's only seen briefly in the series through flashbacks. "For that scene, we were so excited to see him again, and he's so lovely and a bundle of energy and just always brings something fun," Rice adds.
Rice was the youngest cast member on the set of "The Last Thing He Told Me," but for the "Mean Girls" movie musical, she's among fellow rising Gen Z stars like Auli'i Cravalho, Reneé Rapp, "The Summer I Turned Pretty"'s Christopher Briney, and "Senior Year"'s Avantika Vandanapu. "They told me I can't say anything about it," she warns of the film's production. However, she is allowed to dish about her costars. "Everyone is so incredibly talented, but also I think everyone has an energy that matches each other," Rice says. "We all really, really get along, so that's been really nice, just that we're all on the same page with the way we work and all of that."
Rice never actually got to see the "Mean Girls" musical since it hasn't gone to Australia yet and the Broadway production was cut short by the COVID-19 pandemic. But she says she's seen the movie innumerable times. "I called my mom yesterday. She was like, 'I can't believe you are there. I would just remember watching that movie with you over and over and over again,'" Rice shares.
The 22-year-old actor admits that there are some odd parts of playing a teenager on screen during her actual teenage years and into her early 20s. She filmed "Spider-Man: Homecoming" in 2016 when she was just 15. "It's very weird to see your coming of age captured and frozen in time in a movie franchise," Rice says. Though she hasn't watched the movies since they were released, she jokes that she might watch "Spider-Man: Homecoming" on a plane one day.
To this day, Rice still keeps in touch with her Spider-Man castmate Tony Revolori, who helped round out the group of teens at the high school attended by Tom Holland's Peter Parker and Zendaya's MJ. "We text every so often, asking about each other's families, and that's really nice," Rice says. "We've known each other for seven years now, and when we met I was halfway through high school and now I'm an adult."
As Rice leaves her onscreen adolescence behind and looks to the future, she admits she'd love to do a Jane Austen adaptation. "Clueless" and the 1995 BBC "Pride and Prejudice" miniseries are her favourites, and she'd love to play the title hero in "Emma" one day. "But also to play Elizabeth Bennet is also a dream. I feel like she's one of the greatest literary characters," she says. But first, Rice is putting her own foot in the adaptation game. She and her mom, Kate Rice, have written a modern adaptation of "Pride and Prejudice" called "Stuck Up and Stupid." It'll hit bookstores in Australia this fall, and she's hoping for a US release date soon.
The actor and her mom, she says, are a perfect creative pair. "I can't imagine writing alone, and I can't imagine writing with anyone else," says Rice. "It was so good to share the work, and we know each other so well, and we both have the same sort of sense of humour and the same ideas and same style of storytelling."
For now, though, Rice is excited for fans to get wrapped up in the "intriguing mystery" of "The Last Thing He Told Me." When she got the scripts, she stayed up late in the middle of production to keep reading about what happens in the show, and she thinks fans will be hooked, too.